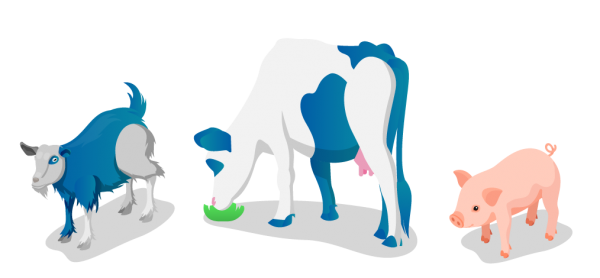 We want to solve the agricultural data challenges of today, while positioning businesses for the future.
By the year 2050, we will need to feed 9+ billion people. This requires a revolution in the agricultural industry. It will be a revolution that harnesses the power of IoT, big data, and hybrid computing to create data ecosystems that improve insights, security, production efficiencies, and ensure the sustainability of agricultural food systems. Through the development and delivery of cost-effective data management services, AgriGates is at the forefront of that revolution.
Animal Welfare
Happy, healthy animals and a life worth living for all livestock.

Sustainability through Regenerative Agriculture
Production methods that help to reverse the impacts of climate change that use IoT and big data as a 'measure it, to manage it' approach, thereby enhancing regenerative agricultural production systems.  
Thriving Rural Economies 
Improving the quality of life for farmers, ranchers, and their employees, in order to enhance the vitality and sustainability of rural communities.

Data Ownership and Data Value
Data is a business asset and is owned by farmers and ranchers. Their data's value can increase through support focused on successful business outcomes.
Speaking Topics:
Dairy business economics and leveraging data for improved decision support.

The dynamic history of and the future evolution of management information systems in the dairy sector.
A critical member in leading the team to define the vision and values at AgriGates, Dr. Smith (or just Terry to the team) is a former Professor of Dairy Science at the University of Wisconsin-Madison and the first Director of the University of Wisconsin Center for Dairy Profitability.  He previously, co-founded the Pro-Dairy program in New York State as a faculty member at Cornell University.  As a member of The Ohio State University faculty in Dairy Science and Agricultural Economics he taught dairy management and developed a course in Computers in Agriculture in the early 80's.
In 1997 he founded Dairy Strategies, LLC, a premier consulting firm, comprised of a team of experienced professionals that continue to assist dairy producers, related businesses, and organizations throughout the US and internationally to position their businesses for the future in an increasingly competitive industry.
With over 45 years of experience, Terry is a global industry leader in business performance benchmarking and in the development and analysis of business and strategic plans for a broad range of agricultural businesses.
Terry and his wife enjoy living and working in the Northwoods of Wisconsin along the beautiful Chippewa River, with their golden retriever, Dave.
To think and ruminate on problems, Terry cuts and splits firewood in preparation for the snow-apocalypses of northern Wisconsin.
Jim Reynolds DVM, MPVM, dip. ACAW
Speaking Topics:
Livestock Welfare
Regulation, standards, compliance on welfare
Livestock Audits
Animal health and Physiology
Dr Reynolds' (Jim to most) history in dairy goes all the way back to being raised on his family's dairy in San Diego, CA. It was feeding calves, mixing feed, and washing parlors as a kid that spurred on a lifelong career in caring for livestock animals. 
Jim graduated as a veterinarian from UC Davis in 1982 and went into private dairy and beef practice in California for 14 years. He then went on to complete a residency program in public health with the California Department of Health Services. This led him back into academia, where he was the Chief of Clinical Services for Production Medicine at UC Davis for 12 years. 
Today, Jim is a Professor of Large Animal Medicine/Welfare at Western University, College of Veterinary Medicine in Pomona, CA. He continues to work extensively in on-farm, clinical bovine practices in California, other states, and several countries.
Jim has had a number of accolades, including serving as chair of both the American Veterinary Medical Association & the American Association of Bovine Practitioners Animal Welfare Committees. He is currently a member of the California Veterinary Medical Association Animal Welfare Committee. A founding board member of the Professional Animal Auditor Certification Organization (PAACO). A member of the scientific committees for Validus, the American Humane Society and conducts welfare assessments and audits for Validus, LLC. Has been course leader for the American Association of Bovine Practitioner's pre-convention seminar on Cattle Welfare. He is the Chair of the Consumer Affairs Committee for the Dairy Cattle Welfare Council.  
Jim also received the AVMA Animal Welfare Award for 2007, the American Association of Bovine Veterinarians Award of Excellence for 2010 and is a Diplomate of the American College of Animal Welfare (ACAW).
Usually having unforgettable hair-do's, Jim always has illuminating additions to any welfare conversations, but also asks the questions that we're all thinking but no one is asking. 
Speaking Topics:
Farm & Ranch Data Ecosystems 
Animal production big Data 
Animal production big Data for livestock welfare 
Farm & Ranch Data Ownership 
Agriculture Data Integration 
Farm & Ranch Cybersecurity 
Sustainable and Regenerative ag through Data 
Digital literacy in Agriculture
OneHealth Data 
Social media & Agriculture
AgriTech Start-up leader
Daniel, or Dan to most, grew up in rural Ireland, where he lived around agriculture and farming his whole life with family, friends, and jobs all in primary production and products.
He attended Queen Margaret University in Edinburgh, Scotland where he studied his love of science in a Human Dietetics, Nutrition and Biological Sciences Department and received his BSc (Hons) in Applied Pharmacology. Since graduating in 2013, he has been applying this scientific and health foundation and working solely with startups in a variety of roles with an emphasis on innovation in the food and AgriTech industries. After moving to the US in 2017, Daniel successfully brought a UK-based livestock wearable sensor to the US market.
Using the Internet of Things (IoT) and big data to improve and enhance our understanding of animal welfare and the sustainability of livestock production systems has become a big interest and passion to Daniel and what has led to AgriGates today. Now living in Philadelphia Pennsylvania, he continues to work all over North America, the EU, and the UK.
Daniel is an active committee member of the Dairy Cattle Welfare Council, an elected commission officer for European Federation of Animal Science commission on Precsion Livestock Farming (PLF), a member of the National Institute for Animal Agriculture, and in 2021 was recognized as an ambassador in promoting the need for greater animal production data by the Circular Food Systems project at Wageningen University in the Netherlands.
Daniel is a problem solver and deep dyslexic thinker, that loves science and the scientific process. He is the person with a lot of random facts and knows zero about pop culture. He is known to have a bit of a green thumb at home and also loves to take long walks with his dog Byrd, while burning through numerous podcasts. Be sure to follow him on LinkedIn for recommendations.